[Guide] EASEUS Todo Backup 1.1
For some time I've been looking for a free yet stable alternative to Norton Ghost. I was sitting and searching around and stumbled over "EaseUS Todo Backup". A completely free yet feature rich application which does almost the same things as Norton Ghost.
I've been running with EaseUS Todo Backup for around 2-3 days now and use it on all our home computers (4 units all in all), the restore process seem easy so I can only recommend this beautiful application.
Taken from EaseUS's webpage:
EASEUS Todo Backup is an award-winning and Free backup and restore solution for a good reason: with detailed instruction wizards, your computer will be in a safe condition within minutes without the help of an IT specialist to backup your system state, partition and disk. And this program is totally free to use!

EASEUS Todo Backup can backup your system partition to quickly get the system up and running in the event of a system crash or hardware failure. It allows you to backup and restore disk or partition after viruses attack, unstable software download, hard drive failure, etc. Meanwhile, EASEUS Todo Backup is useful if you want to upgrade the older smaller hard disk without reinstalling the operating system and applications once again.

If your system is crashed or Linux based bootable CD fails to restore the system, we recommend you to restore system with WinPE based bootable CD which is more powerful than Linux one: operate without installation, support Windows 7 and Hardware Raid, etc.

This free backup software supports nearly all major Windows systems, like Windows 2000 Professional/XP/Vista/Windows 7 and Windows Server 2000/2003/2008.
With those words said I see no reason for NOT doing a complete backup ones or twice pr quarter.
———————————————————————————————————-
Firstly you'll need to Download EaseUS Todo Backup 1.1, use the link below
[download id="20″ format="2″]
Now run through the installation, if question's follow the image below: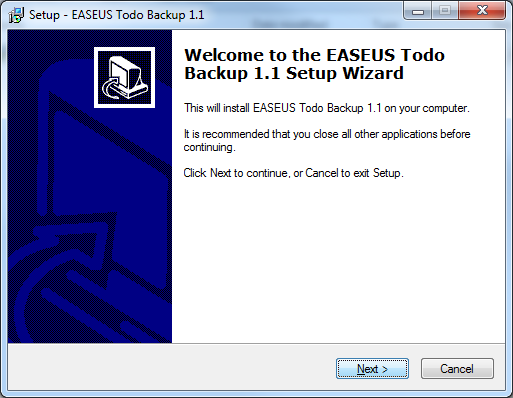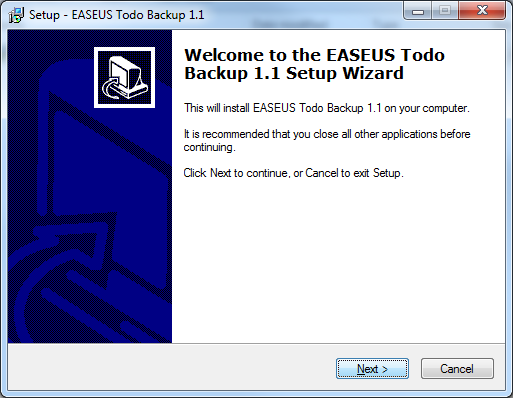 Accept the License agreement: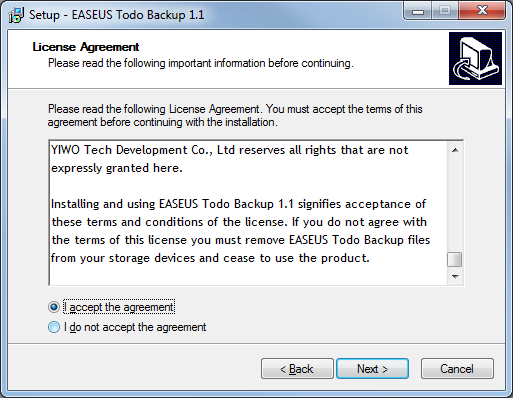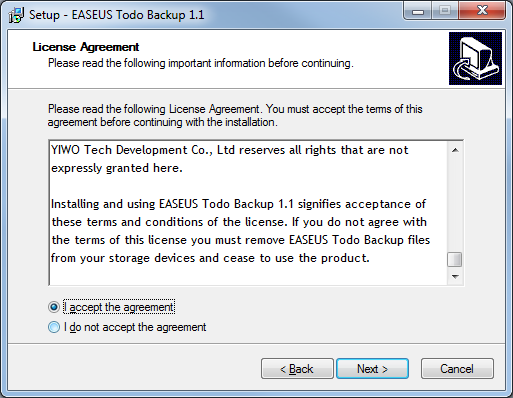 Some information, read it if you'd like: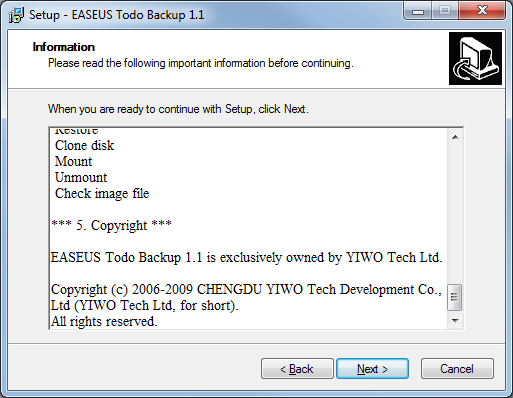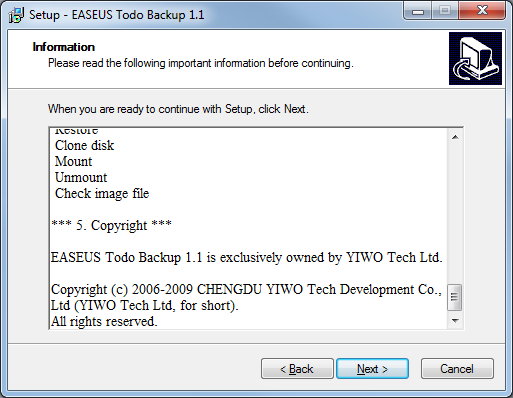 Choose the installation folder:

Choose the name of you want for EaseUS Todo backup in your Start Menu: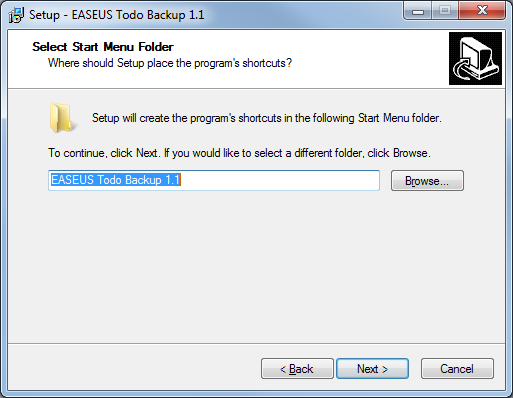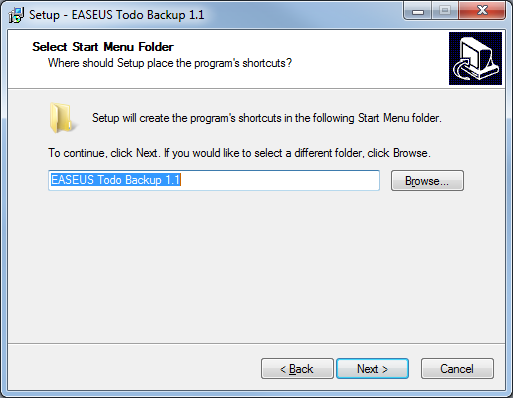 Do you want you make shortcuts?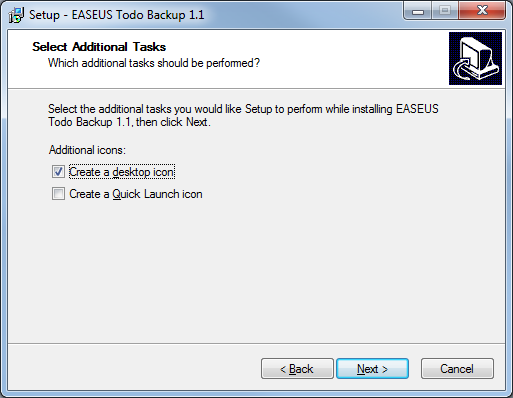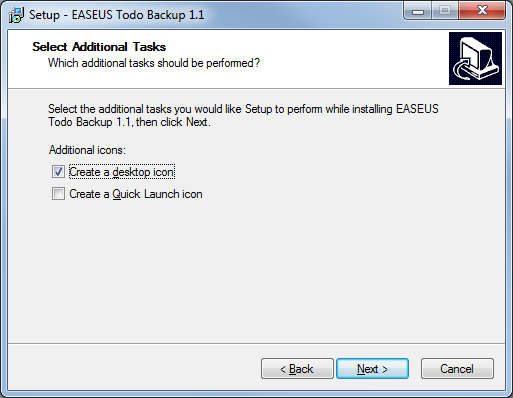 All settled and ready to install: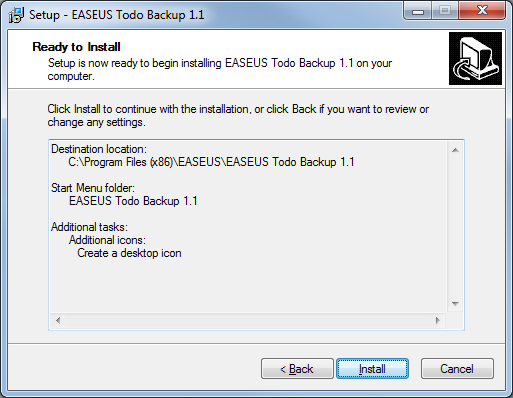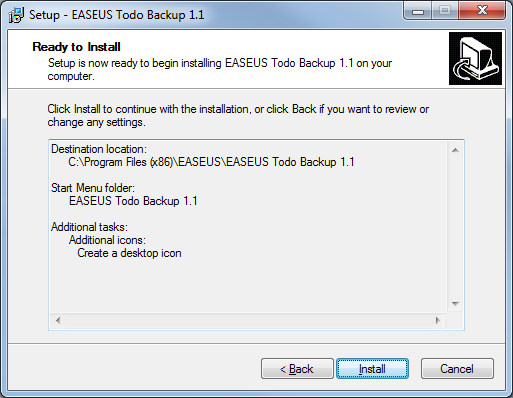 The installation takes a few minutes depending on your system performance: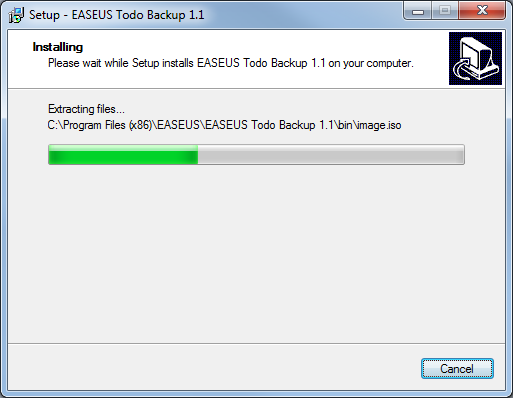 If a Windows security pop-up shows accept it:


And say yes to reboot your PC: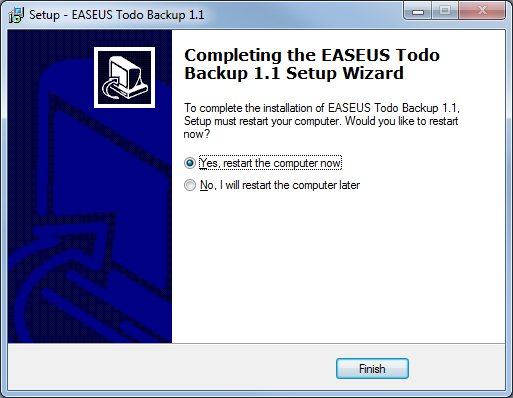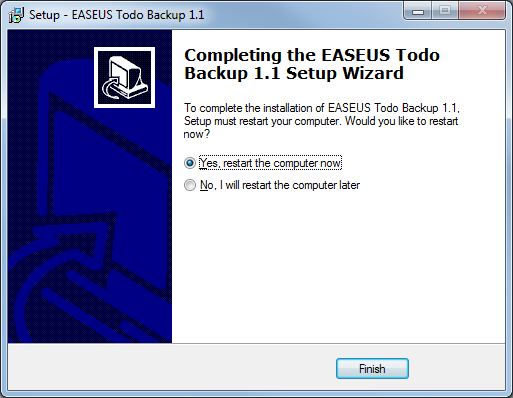 When you've reboot it's actually quite simple, when running a backup you'll have to choose where and a name for the backup, look at the video below, it show it pretty well.
[flash width=750 height=670]http://www.c0urier.net/files/video_blog/easeus_todobackup.swf[/flash]
I've decided to do the backup on my Z drive which is a shared drive on one of my servers. The whole backup process of the close to 60 GB took me 30-45 minutes, the transfer rate to my server was stable between 150-200 Mbit, it's of course also possible to do the backup's to an external USB drive if you prefer that.
Hope you find this little guide useful. Happy backuping =).
More information visit EaseUS webpage: http://www.todo-backup.com/